Read the Lit Bike x Klarna Review in The Ritz Herald!
Lit Bike x Klarna is Featured in The Ritz Herald!
The Ritz Herald Wrote a Review on Lit Bike x Klarna!
The Ritz Herald is an online news publication covering politics, the environment, economics, art, culture, and much more. This week, the media giant wrote a full review of our Lit Bike x Klarna at-home exercise bike! The review covered the bike's design, features, and performance - everything you need to know before you buy.
Lit Bike x Klarna scored an overall 9 out of 10 stars! The article compares the bike to similar cardio machines, and the honest review of the exercise bike covers everything you need to know before buying. Check it out for an in-depth inside look at Lit Bike x Klarna!
********READ MORE ON********
FREEBEAT LIT BIKE X KLARNA FULL REVIEW
Who is freebeat?
freebeat is an exercise bike company emitting all things fitness. Their classes provide a new angle on spin classes by emphasizing the music and flow of the class. Rather than just listening to the instructor's cues, follow the beat of the music and ride with the rhythm. freebeat believes health and wellness should be widely available to everyone, and that fitness is at the core of a positive life. They aim to make their bikes of the highest quality while keeping them at an affordable price. Spreading the love of fitness to everyone.
Pros:
The Lit Bike x Klarna is an extremely affordable alternative to exercise bikes in this category. For the price, you get not only a high-quality bike, but also a free 45-day membership. The membership includes a wide array of classes and instructors and is guaranteed to satisfy all fitness cravings. Various class styles, durations, and music themes will add energy to your fitness routine leaving you craving more. Classes, games, and events are constantly being added, so no need to fret about not finding a class suitable for you.
Klarna Collaboration 5/5
The freebeat Lit Bike x Klarna is nothing short of beautiful. The bike's color is Klarna's signature pink, making it a beautiful accent to every room. With just one glance the bike's sleek and modern curves will stand out and catch your attention.
Klarna is a Swedish fintech company that provides online payment plans for online storefronts. Klarna partnered up with freebeat with hopes of making fitness accessible for everyone. Easily split the cost of your Lit Bike x Klarna into low monthly payments and pay it off over time.
The collaboration launched in February '22. To spread the word of the collab, freebeat held the "21 Day Challenge", urging riders to ride for 15-minutes a day for 21 consecutive days. The campaign was a huge success and struck a massive audience on their social media accounts. Since then, Lit Bike x Klarna has been selling very well and gained lots of attention.
Performance Review 4/5
Lit Bike x Klarna has all the same features as freebeat's best-selling exercise bike, the Lit Bike. The bike rides exceptionally well and keeps up with other bikes around this price. It is silent, very sturdy, and fairly lightweight.
We found the saddle to be a bit hard at first. However, after a few rides and breaking it in, there were no further problems. All the other hardware seems to be high quality and produced well.
The bike itself can withstand lots of pressure and force. This is key for an exercise bike. The last thing you want is a wobbly or shaky bike, leaving you to second guess your confidence in the bike. If you can't trust your equipment, you can't give it your all. Luckily that's not the case with Lit Bike x Klarna, you can absolutely put your full trust in it.
The classes on the tablet offer enjoyable and engaging classes, but there are no basic training sessions that track your metrics without an instructor. It would be nice to have an option that only records your metrics without having to complete a class.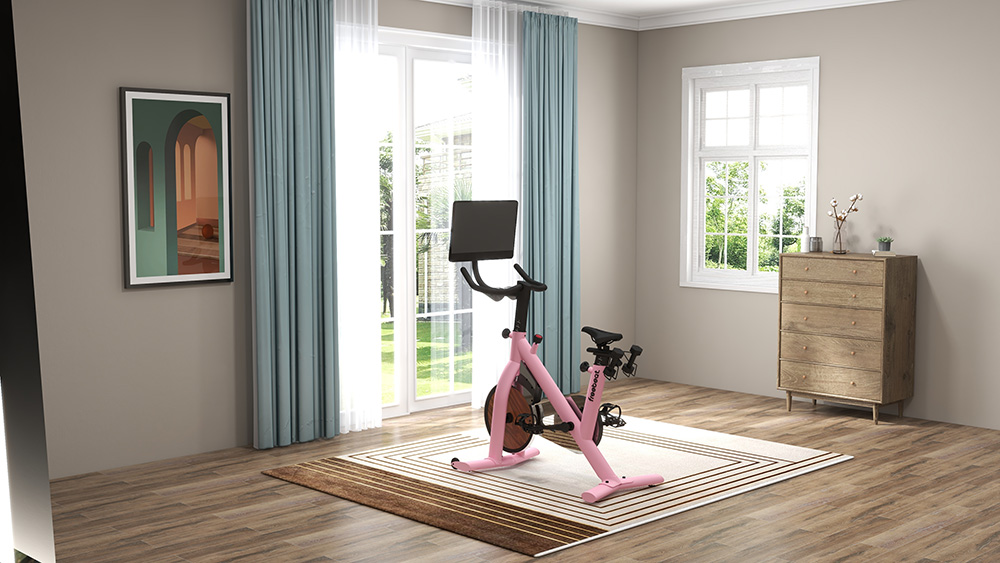 Set Up and Usability 4/5
Lit Bike x Klarna is extremely easy to set up. The hardest part is dragging the huge box inside and unpacking all the parts. For the most part, the bike comes assembled; you just have to attach the screen and a few other parts. Once fully assembled, link your membership, and you're good to go.
The bike weighs about 110lbs, lighter than other bikes with the same features. Conveniently, the bike has two wheels attached to the front, making changing rooms very easy. Moving up and down stairs is a different story; you might need some help with that.
Features 4.5/5
The main feature worth mentioning is freebeat's membership. When you purchase the bike from freebeat's website, the bike comes with a 45-day free membership. After the 45-day trial ends, it is $39/month to continue. Unfortunately, the bike is more or less useless without the membership, making it so you need a membership. On the bright side, the membership is packed with classes and more activities than you'll ever need.
New classes are always being added to the library, as well as weekly and monthly competitions and challenges. All the classes and challenges are led by freebeat's amazing instructors who are extremely energizing and inspiring. Each class is packed with action and fun music. If you're feeling tired or lazy, one of the classes is guaranteed to boost your mood.
In addition to the software features, the Lit Bike x Klarna has some standout hardware designs.
Every bike is Swiss designed and engineered, ensuring sleek features and a powerful ride.
The Auto Resistance System will adjust the bike's resistance to the instructor's recommendation. This allows you to focus on riding and not changing the settings.
Inside the bike's seat is the Smart Saddle Detection+ sensor, which will reward you extra points for riding out of the saddle.
The massive 22″ Rotatable HD Touchscreen is glare-free, fingerprint-free, and fully rotatable. Spin it around for a more immersive workout or easy storage.
Gamified Classes 5/5
The classes on your Lit Bike x Klarna are most likely unlike any spin-style class you've taken before. The class score is based on how well you ride on beat with the music and how many combos you get. Riding with high resistance will add extra points as well. All your other riding metrics, such as RPM and distance, are also displayed on the screen.
After your class ends, your score is posted alongside the other users'. This feature is super fun, allowing you to compete with other freebeat riders and battle up the leaderboard. Lit Bike x Klarna's class style is a breath of fresh air compared to traditional spin classes.
Cycling aside, there are also off-bike workouts which are great. The membership has HIIT, barre, stretching, and cross-training courses. The screen is rotatable, making jumping off the bike and doing other types of workouts very convenient.
Overall Review 4.5/5
Simply put, the Lit Bike x Klarna is a stunning collaboration and product. The bike itself retails at $1,899, but there are always sales and discounts which you can grab. Moreover, the Klarna payment plan has no strings attached (as long as you keep up with the payments), breaking the price down into low monthly payments.
The bike is extremely fun to use, easy to assemble, and looks great in just about every room.
We can confidently assure you that this is an excellent buy for the price and all the features you get.
How we tested
Our team thoroughly tested the Lit Bike x Klarna over a few months before coming to a conclusion. The results were found on a variety of factors:
1. Performance
2. Set Up
3. Usability
4. Features
5. Class Content
6. Value for money
After assessing the Lit Bike x Klarna with the above factors, we concluded an overall score of 9.0/10.
Website:https://global.freebeatfit.com/products/lit-bike-klarna-limited-edition